Yes, you read that right…we are talking about shelves. Shelving is a common necessity in your home, and there are a few simple tricks to take them from looking cluttered and boring to something you love to look at! Here are our top 3 tips for a perfectly styled shelfie.
FUNCTION Obviously the most important thing about shelving in your home is to provide you with storage. But this does not have to look boring. We like to find natural woven or metal baskets that will disguise the clutter that could otherwise be visible. Other great storage options would be including canisters or bowls. And if you are working on open shelving in your kitchen, don't be afraid to put your dinner and glassware on display!
BALANCE When looking to balance out the styling of multiple shelves, we like to look at symmetry and contrasting asymmetry. You want to make things look symmetrical but not identical. By matching color tones between groupings, as well as heights in different objects you can create the perfect balance.
DECOR Decorative pieces for your shelving can come in many different ways. Colorful book bindings can give a pop of color. A piece of artwork or sculptural item can add an artistic flare. A potted (real or fake) plant can add a natural element. When working with clients, this is where we like to look at what they already have on hand, to incorporate old with new.
If you have been following along with with Sara Godfrey Design on social media you have not missed an amazing kitchen that is just about finished! We put all these tips to use in the AMAZING mixed material open shelving on either side above the sink. We chose items with different wood tones, and stuck with a neutral palette of whites, grays and blacks. We added different textures with a concrete candle holder, and a crisp white woven basket that would be great for on the go items, such as your favorite protien bars. Along with the basket, we added storage with some great glass canisters. Decorative elements came in with some sculptural pieces, greenery and brass accents. LOOK BELOW AT OUR BEFORE AND AFTER!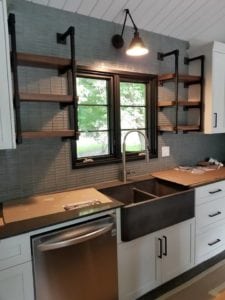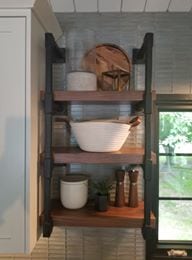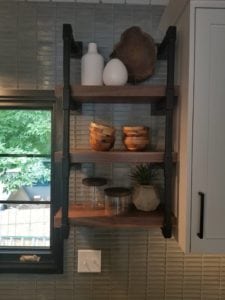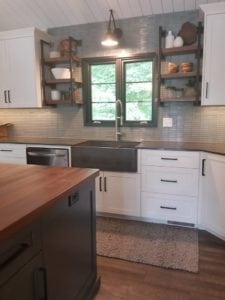 Stay tuned for more transformations from SARA GODFREY DESIGN!
PREVIOUS POSTS